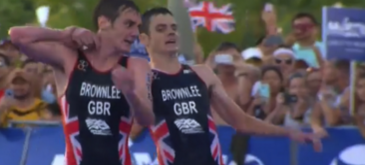 Brownlee brothers. The 2016 WTS season ends in a dramatic fashion What A Year
Alistair Brownlee helping brother Jonny finish his triathlon sacrificing his chance of winning.
Jonny was leading but struggled in the closing stages and had to be held up by his brother, who was third, before being pushed over the line in second
Dazed with heat stroke and struggling even to stand, Jonny Brownlee had to be helped over the line by brother Alistair in Mexico as the World Triathlon Series came to a dramatic close.
No comment!