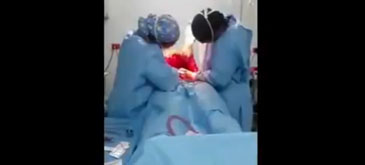 Surgeon and nurse causing controversy by their lack of professionalism
A video of a plastic surgeon and an assistant nurse dancing while in the middle of surgery has caused outrage online.
The video was obtained by Bernardo Alejandro Guerra, a councillor in the city of Medellin in north-western Colombia, who said he was shocked when he saw the footage.
He said he reported the incident – which took place in an operating theatre in the city's Arte y Cuerpo clinic – to local media.
The video shows the plastic surgeon, identified as David Majana Navarro, and his surgical scrub nurse, identified as Angelica Mejia, in the middle of performing surgery.
They are listening to pop music and suddenly they put down their tools and instruments before they start dancing and laughing.
Reformulez: oare cati medici si asistente procedeaza astfel? Si ce e rau in asta?