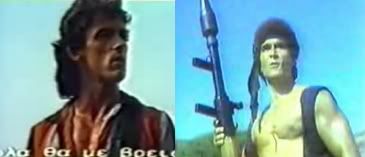 In seara asta, va invit pe toti la film. Daca va plac filmele de actiune si il indragiti pe Rambo, inseamna ca o sa va placa la nebunie urmatoarele:

Rambo – The Intruder (varianta – indoneziana)
Un film "exceptional", vi-l recomand cu caldura! Realizat prin anii 80, ma intreb cum de oare l-am ratat? 🙂
Un Rambo in varianta Bollywood. Putem face asocierea cu industria indiana de film, chiar daca productia este indoneziana. Se incadreaza perfect.
Faza cu bilele este originala si de exceptie!

Iar acum sa va prezint Rambo in varianta turca. Silvester Stallone ar fi gelos:

Bonus, o scena cu niste baieti ninja:

Thx to Nomad pentru ajutoru dat la "sapaturi"!