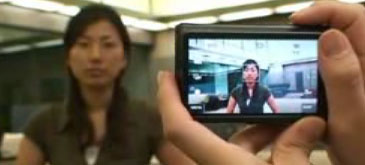 Cam asta a fost devizia japonezilor cand s-au gandit sa scoata pe piata un nou tip de camera. "Never Miss a Smile"
Modelul DSC-T200 scos de Sony este realizat astfel incat sa nu permita declansarea pozei decat in momentul in care este detectat un zambet pe ecran.
Using Sony's proprietary algorithm, this innovative intelligent auto shutter system responds actively to smiling faces. To start, just choose Smile Shutter from Scene Selection, then press the shutter fully on the subject to be taken; the camera automatically detects the smiling face and closes the shutter. To detect the different degrees of smiles by your subject, you can set Smile Level sensitivity to "high" (to detect a faint smile), "medium" (for a normal smile), or "low" (for a hearty laugh). If there are several subjects in the frame, you can use the Touch Screen to specify the smiling face you want to take as the main subject — or let the Smile Shutter choose the main subject and take the picture.
Visurat, ar fi o alternativa sa inlocuiesti decedatul. 🙂