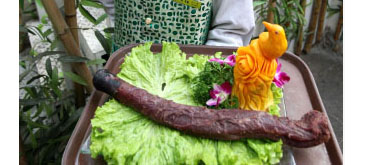 Guolizhuang Restaurant – Beijing
"The Chinese eat everything with four legs, except tables — and everything that flies except airplanes," goes a Chinese saying.
Dupa ce ne-am inveselit urmarindu-i cum devoreaza sobolanii aceia draguti, chinezii nostri s-au gandit sa mai iasa un pic in evidenta cu un restaurant aparte. Vorbim aici de un restaurant ce este dedicat exclusiv mancarurilor compuse din penis sau testicole ce apartin a peste 30 specii de animale. Fierte sau prajite, intregi sau file, acestea sunt servite sub diverse forme sau denumiri exotice cum ar fi: "The Essence of the Golden Buddha," "Phoenix Rising," "Jasmine Flowers with 1,000 Layers" sau "Look for the Treasure in the Desert Sand."
For women, eating penises is supposed to be good for the skin.
In traditia chineza se spune ca preparatele pe baza de penis ajuta la cresterea potentei barbatilor iar pe femei le-ar ajuta sa aiba o piele mai fina. Insa femeilor nu le este recomandat sa consume testicole deoarece se stie ca hormonii continuti de deliciosul preparat ar putea duce la ingrosarea vocii sau ar ajuta la cresterea bărbii. How cool is that? 🙂
Va invit sa parcurgeti un mic tur in imagini al restaurantului. Un lucru important de stiut: in restaurant nu au voie sa intre persoanele mai mici de 15 ani. 😉
P.S. In caz ca va ganditi sa vizitati acest restaurant dar nu doriti sa mancati asa ceva, va recomand vinul casei. Acesta este compus din extracte de inima, penis si sange de cerb.
[sursa]