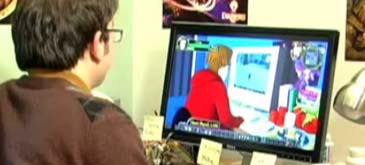 World of World of Warcraft (WoWoW) este noul joc scos de catre cei de la Blizzard si se vrea a fi o continuare a celebrului World of Warcraft. Cu toate ca este un pic diferit fata de predecesorul sau, WoWoW este un joc extrem de interesant. Fiecare isi poate crea de acum un caracter/personaj dupa bunul plac (avand ca model vecinul de la doi – de exemplu) iar hartile sunt niste copii foarte reusite ale unor dormitoare, birouri sau sufragerii.
Dupa cum bine ati intuit, WoWoW te ajuta sa controlezi un personaj care joaca WoW. Adica si personajul ala controleaza la randul sau un personaj. How cool is that?
Interesant este ca oricine isi poate personaliza la extrem acest caracter astfel ca acesta poate sta in fata unui computer jucand Warcraft, pierzandu-si 16 ore pe zi, prietenii reali, prietena/sotia/iubita dar castigand cateva kilograme in plus.
Veste de ultima ora: s-au vandut 100.000 copii in prima zi de la lansare. Mai multe detalii gasiti mai jos:
Iar totul este o gluma, extrem de bine realizata. 😉