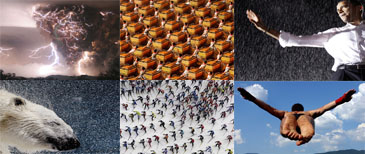 2008 has been an eventful year to say the least – it is difficult to sum up the thousands of stories in just a handful of photographs. That said, I will try to do what I've done with other photo narratives here, and tell a story of 2008 in photographs. It's not the story of 2008, it's certainly not all stories, but as a collection it does show a good portion of what life has been like over the past 12 months.
Cei de la Boston fac o treaba minunata cu recent lansatul Big Picture. Zic recent pentru ca  a fost lansat anul acesta, in luna Mai, moment in care si-a castigat un loc in Bookmarks Folderul meu.
Am sa va invit sa petreceti urmatoarele minute vizionand (neaparat cititi si descrierea fiecarei poze) un excelent pictorial intitulat "2008, the year in photographs" – impartit in trei parti: partea 1, partea 2 si partea 3.
Related: Romanii le-au furat imprumutat si pe astea – link.