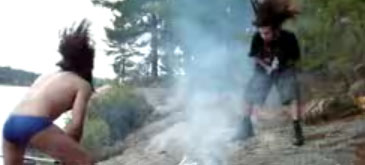 Headbanging is a type of dance which involves violently shaking the head in time with music, most commonly rock music and heavy metal music.
O dimineata linistita, greierii canta, pasarelele se bucura…Cand am vazut filmul asta pentru prima oara nu am inteles nimic ba chiar m-am speriat. Am crezut ca asist la  vreun ritual de imperechere insa nu, am aflat ca baietii de mai jos dau din cap pe ritmurile unei piese venite din niste casti ale caror sunete nu sunt "prinse" de camera de filmat.
Stiti ce atrage la filmul asta? Contrastul dintre linistea oferita de natura si reactiile baietilor.
Poate ca acum va veti da seama de ce unii dintre noi privesc acest "dans" (cica e dans) insotiti de semne mari de intrebare deasupra capetelor.


Iata si piesa :

P.S. Sa nu va apucati acum sa ma luati iara la rost cum ca am ceva cu rockerii pentru ca nu am. 🙂