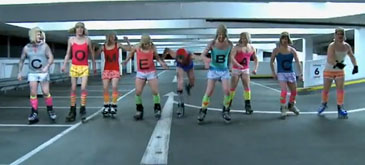 This is now the official video for Chicane's "Come Back" released 12th April, and contrary to widespread belief it is a true story. More soon..

"It broke my heart when we split up. So, I've made you this video to show how much I love you and I want you to come back & stay!!"

Features music by Chicane "Come Back & Stay" Released 12th April 2010

The recent Chicane 'Best Of' album has sold over 100,000 copies achieving Gold status. It features such hits as; Saltwater, Don't Give Up – featuring Bryan Adams, Stoned in Love – featuring Sir Tom Jones, Bruised Water – Chicane vs Natasha Bedingfield, and of course, last years No.7 Uk chart entry, Poppiholla.

Now, 2010 brings a new studio album, working title 'Giants' and a new single from the album in the guise of 'Come Back & Stay', (April 12th release). The single is already a massive club favourite, with a package of mixes by Shock One, Riley & Durrant and Sidney Samson, all being coupled with the original club mix and radio edit. The band, Chicane will be appearing live in London April 9th at The Gallery, Ministry of Sound.
Am ascultat ultima creatie a celor de la Chicane  de doua ori si deja imi place la nebunie. Fiti atenti la videoclip, contrar spuselor unor carcotasi, povestea din spatele lui este cat se poate de reala. Scena cu "campurile unde mi-ai vazut pentru pirma oara 'racheta' " este excelent gandita. 🙂
Dedic piesa unui foarte bun prieten de-al meu (stie el cine)  iar voua am sa va urez weekend placut. 😉
George are o rubrica asemanatoare si la fel de saptamanala, v-o recomand – link .