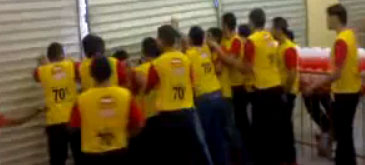 This was shot in Joao Pessoa, Brazil. a new electronics store had just opened with bargain prices. Well, i say opened…….
Press reports say that 50 people were injured and an elderly woman died in hospital.
Da, big opening cu reduceri masive! La scurt timp dupa ce imaginile de mai jos au fost filmate, 50 de persoane au fost duse la spital  iar o persoana a murit.


[mai multe detalii aici]