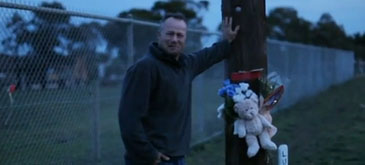 On 28 March 2010, 19 year old Luke Robinson died in a crash as a result of speeding. This is just one of the hundreds of people who were touched by that one single tragic event. Luke's story formed the central point of the Ripple Effect campaign, highlighting to Victorian motorists the widespread pain caused by road trauma in the community.

Everybody Hurts – http://www.everybodyhurts.com.au
Inca o campanie impotriva vitezei.  Noua ne plac, aceste campanii sunt extrem de bine intentionate insa nu stiu daca aceste imagini ajung unde trebuie. Poate sa-mi garanteze cineva ca vitezomanii sunt toata ziua online? Nu, asa ca trageti-i de maneca si aratati-le.