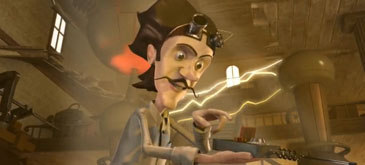 "Be Mine" is the story of a vindictive, lovesick scientist whose evil plan to destroy the world is unexpectedly derailed. This is The Art Institute of Portland's second-ever 3D Production, and was conceived, modeled, animated, textured, and rendered by the school's top students over the course of one school year.
Reluam rubrica noastra saptamanala prin intermediul acestei animatii realizate de catre niste studenti. 🙂
Nu uitati, in fiecare vineri am sa incerc sa "anunt" sfarsitul de weekend postand cate o animatie draguta in rubrica noastra saptamanala. Daca vreti sa ma ajutati si voi cu materiale nu ezitati sa imi trimiteti un mail la fulgerelu[coada de maimuta/a rond]gmail[punct]com sau folosind formularul de contact .