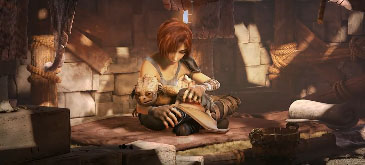 "Sintel" is an independently produced short film, initiated by the Blender Foundation as a means to further improve and validate the free/open source 3D creation suite Blender. With initial funding provided by 1000s of donations via the internet community, it has again proven to be a viable development model for both open 3D technology as for independent animation film.
This 15 minute film has been realized in the studio of the Amsterdam Blender Institute, by an international team of artists and developers. In addition to that, several crucial technical and creative targets have been realized online, by developers and artists and teams all over the world.
Un excelent scurt-metraj 3D, cu durata de 15 minute, in care vedem povestea unei fete care porneste in cautarea animalutului ei de casa: un mic dragon. 🙂 Asa cum puteti citi si introducere, animatia a fost creata cu ajutorul unui program open-source –  Blender (o animatie aseamnatoare este si Big Buck Bunny ). La realizare au participat un numar de 14  persoane (animators, script editor, technician & director) dar si numerosi membrii ai comunitatii online The Blender Foundation .  Costurile de productie sunt estimate undeva in jurul sumei de 400.000 euro.
Pentru satisfactii maxime recomand vizionarea in HD (1080px). Cine are sistem de sunet 5.1 (sau nu) si vrea rezolutii mari (pana la 2048×872), poate sa-l descarce de pe sintel.org
Finalul….. 🙁
[thx to mArS]