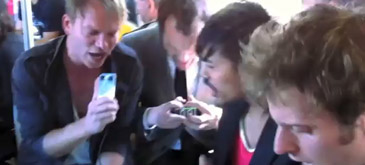 Directed by Benjamin Espiritu. Produced by Atomic Tom and Benjamin Espiritu. Edited by Reid Carrescia. This video was filmed unannounced on Friday October 8, 2010 aboard the New York City B Train, over the Manhattan Bridge into Brooklyn and edited from 3 iPhone cameras. All footage is performed 100% live and executed in one take.
Atomic Bomb este o trupa din New York care si-a lansat ultimul single – "Take me Out" – in metroul din New York. Piesa lor a devenit in scurt timp viral pe Youtube (peste 3 mil. vizionari ) baietii folosind pe post de instrumente cateva iPhone-uri, fiind insa ajutati si de un mic amplificator.
Videoclipul s-a filmat dintr-o singura bucata. Bravo!