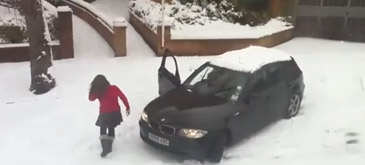 Erm..she's about to hit the house…
Tipa are un BMW cu tractiune spate si cutie de viteze automata (presupun). Nu de alta dar nu inteleg de ce (sau mai bine zis, cine??) iese afara dintr-o masina bagata in viteza, motorul fiind pornit?
Gresesc cumva daca afirm ca la cutia manuala, motorul se opreste imediat daca cumva iesi din masina lasand motorul cuplat pe treapta I?
[via buhnici]