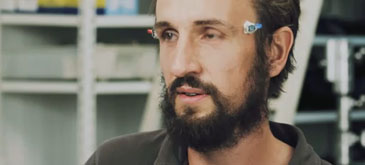 www.jonathanpost.com Jonathan Post Experiment present by Francois. a new technology for 3D screens without glasses!
This system works only on 120Hz monitor displays. It simulates 3D Active Shutter Glasses. I hope to have a final version for CES 2012. For further information, contact me at talk@jonathanpost.com
Toata lumea cunoaste deja de tehnologia 3D prezenta in casele noastre prin intermediul televizoarelor. Insa orice material vizionat nu poate fi reprodus 3D fara ajutorul unor ochelari speciali care ne ajuta sa vedem efectiv 3D.
In prezent, aproximativ toate televizoarele 3D de pe piata folosesc tehnologia ochelarilor shutter care functioneaza prin receptionarea semnalelor de la televizor si creeaza senzatia 3D prin blocarea concomitenta a lentilelor, ochelarii fiind sincronizati ratei de refresh a televizorului. Deoarece rata de refresh are valori cuprinse intre 240 si 480 pe secunda, intreruperile sunt imperceptibile (de aici).
Un francez a reusit sa inlocuiasca acesti ochelari costisitori cu un alt tip de mecanism. Sa-i urmarim cu atentie demonstratia: