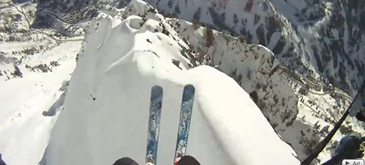 Here is a view from a European (living in the Alps): yes, obviously, natural sounds are nice but the artists here wanted to do it their way, the American way. I find this video fantastic. Truly American version. Love it. Different, original, great music, exciting. If you like the Swiss mellow type then you should perhaps search under Swiss paragliding.
In urma cu cateva luni am mai postat un material despre speed flying iar astazi pot spune din nou ca este un sport extrem de spectaculos dar deosebit de periculos. Si ca sa intelegeti mai bine, in 2009 si-au pierdut viata noua practicanti, nu punem la socoteala si numeroasele cazuri de accidentari grave (oase rupte & shit) – detalii aici.
Un sport mult prea extrem insa deosebit de spectaculos (ma repet, stiu!).
Update: Numele piesei este "Take A Minute – K'Naan".