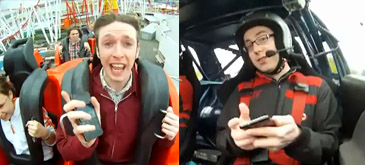 Gerald Lynch from Techdigest.com unboxes the new Samsung GALAXY SII whilst on a rollercoaster & Chris Davies from Slashgear.com unboxes the new Samsung Galaxy S II at top speed in a Rally Car.
Avem doua clipuri despre subiect: unboxing realizat pe un rollercoster iar in al doilea clip putem observa cat de nereusit arata un unboxing facut intr-o masina de raliu!
Daca e sa ma intrebati care este scopul acestei operatiuni atunci va raspund rapid: nu am nici cea mai vaga idee. Poate asa vor sa iasa in evidenta? Or? 🙂 In orice caz, asa ceva nu s-a mai facut pana acum.
This is madness!