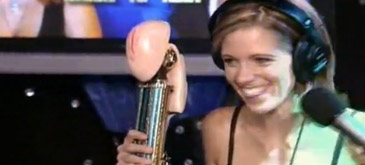 Vaginal flatulence (flatus vaginalis in Latin) is an emission or expulsion of air from the vagina that may occur during or after sexual intercourse or (less often) during other sexual acts, stretching or exercise. The sound is somewhat comparable to flatulence from the anus but does not involve waste gases and thus often has no specific odor associated. Slang terms for vaginal flatulence include vart, queef and fanny fart [wiki]

Pe romaneste: Conform literaturii de specialitate flatulenţa vaginală este un fenomen normal, din punct de vedere medical, ce apare în timpul actului sexual şi se manifestă prin anumite sunete provocate de ieşirea aerului din vagin datorită mişcărilor penisului.
Ca de obicei, in emisiunile lu' Howard Stern se intampla doar lucruri interesante (atentie, imagini interzise minorilor):

Howard Stern's Queef-Off queefing championship. Probably NSFW.