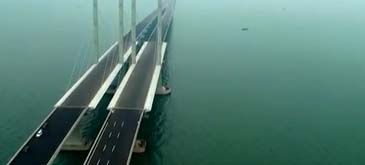 The Jiaozhou Bay Bridge is 35.4 km long. The total budget will be approximately 9.938 billion yuan (~US$1.5 billion). It is estimated that it will shorten travel time from Qingdao to the outlying region by more than half and relieve pressure on the existing Jiaozhou Bay Expressway.
In urma cu cateva zile China a inaugurat cel mai lung pod peste o mare din lume – face legatura intre doua mari centre urbane ale districtului Huangdao – lungimea acestuia fiind de aproape 36 km (aceste cifre nu sunt tocmai exacte, daca folositi Google-ul veti observa ca pe fiecare stire despre acest pod gasim diverse valori legate de lungime sau costul total al proiectului).
Update: Cateva poze de la marea inaugurare gasim si pe dailymail.
Si daca tot suntem la capitolul "contemplari", puteti admira mai jos cat de frumoasa este autostrada Arad-TimiSoara: