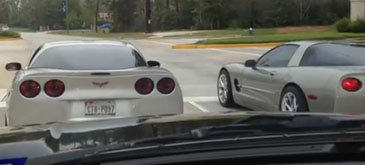 I shot this video of 2 Corvettes drag racing on my way to pick up our Thanksgiving Turkey. I had a feeling something bad was going to happen b/c of the conditions and testosterone flowing between these two. No one was hurt, only the drivers egos.
Imaginile de mai jos au fost filmate de Ziua Recunostintei, o zi speciala in care americanii sarbatoresc si multumesc Domnului pentru bogata recolta din anul ce tocmai se sfarseste.
Nu stiu insa ce sa va spun despre cei doi americani posesori de Corvette care fix in aceasta minunata zi s-au gandit sa-si multumeasca unul altuia ca  – si aici imi dau cu presupusul – asigurarea le va acoperi toate daunele.