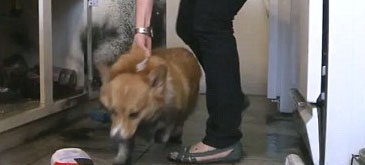 This video is of an episode of the animal web series ' Pet sense" being produced by the Pet Collective
video has everything a dog blooper, a spray paint blooper, followed by the hot doggy owner getting sprayed with paint,followed by the ingnition of the chemicals and explosion resulting in the kitchen catching on fire. Yes the dude tries to runaway until his girl commands him to 'GET IN THERE' caught on HD.
While filming a pet/owner help show The Corgi gets under sink, and bites into the spray can which sets of the spray paint and probably came in contact with the stove resulting in a fire.

Mai nasol a fost faptul ca nu era vorba de cotetul lui ci chiar de casa stapanei sale. Ehh, asa e cu animalele astea de casa, unele sunt mai cuminti si mai educate decat altele.
Povestea filmarii de mai jos poate fi urmarita aici.