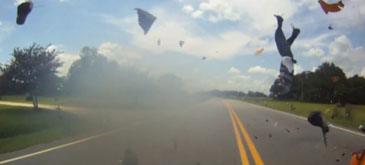 Kawasaki ZX-10 slams bloody hard into a trailer!…ouch

The gopro camera is mounted to the front of my mates Ducati 848 Evo. The rider survived the crash with only a broken arm and broken leg and was airlifted to the hospital.
Hmmm, nu-i de ras, titlul acestui post e cumva foarte cinic. Ceea ce veti vedea mai jos este un accident provocat din neatentie. Noroc ca – datorita si
costumului de protectie – motociclistul a supravietuit si s-a ales "doar" cu o mana si un picior rupte.
Imaginile sunt spectaculoase insa terifiante totodata: