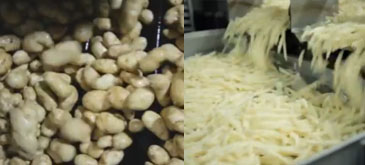 Did you know that McDonald's World Famous Fries are made from whole potatoes harvested mainly from farms in New Brunswick, Alberta, and Manitoba? Watch and see exactly how our fries get made, from the farm to the fryer. Visit http://mcdonalds.ca/yourquestions
Ciudat, mereu am crezut ca acei cartofi sunt din plastic – si inca cred asta. Revenind la intrebarea din titlu, McDonalds Canada are un raspuns:
Update: La intrebarea unui cititor, "de ce sunt atat de sarati cartofii de la Mcdonalds?", am ramas uimit de raspunsul tipului. Cu cata usurinta recunoaste ca la patru (4) portii medii de cartofi se foloseste o lingura de sare. Dude, wtf? Muuuult, foarte mult!


[pe dailymail.co.uk gasiti mai multe detalii]