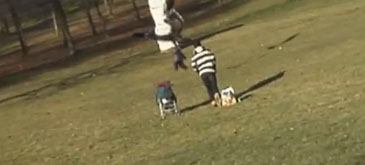 Golden Eagle Snatches Kid
A golden eagle tries to snatch a baby in Montreal! What if he got away with it!?
Un aigle royal attaque un jeune enfant sur le Mont-Royal!
Un cetatean canadian a suprins zilele trecute o scena in care un vultur ce dadea tarcoale deasupra unui parculet, intra deodata in picaj si se repede asupra unui copil pe care il inhata in gheare si reuseste chiar sa-l ridice cativa centimetri deasupra solului.
Nu stiu ce sa cred, in slow-motion mi se pare ca vad un pic de CGI. La voi cum e?