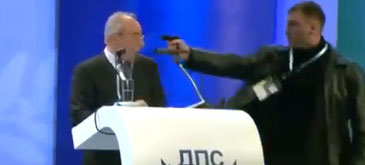 The leader of Bulgaria's opposition Movement for Rights and Freedoms, Ahmet Dogan, escaped an apparent assassination attempt Saturday while addressing a party congress in Sofia, local media reported.
The attacker pointed a gun at Dogan, but was prevented from firing, according to the reports. While security wrestled with the attacker, Dogan was tackled to the ground by his bodyguards.
S-au prostit si bulgarii astia. S-a intamplat ieri…


Mai multe detalii pe Hotnews.
thx to branco