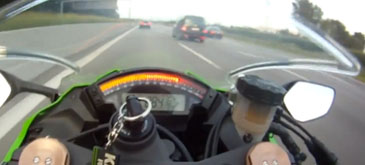 Driving from Augsburg to Munich together with an Audi RS6 ABT (700hp). The total distance of ~50km (~31 miles) was completed in under 15 minutes. That results in a average speed of around 215 km/h (~133 mph). You thought that a litre bike is faster than almost every car?
Un duel unic si care nu poate fi posibil decat pe Autobahn.


Pasionatii de viteza pot urmari partile 2, 3 si 4 aici.