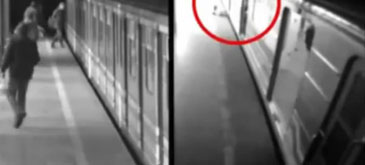 Drunk woman falls into Prague metro rails, two trains ride over her.
Very lucky was 40 years old women, who survived at first fall into metro rails and than trough passage of another two metro rigs.
A lot of passengers watched the women, only some of them helped.
Doar o minune a facut ca aceasta femeie (beata) sa ramana in viata dupa ce doua metrouri au trecut peste ea. Imaginile sunt suprinse in metroul din Praga (Cehia).