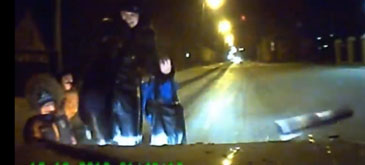 Child almost hit by car due to the fault of parents
Mother tries to write to the police and the accused driver in crash…Bastards!!!
Zoso a explicat extrem de bine aici motivul pentru care mai toti rusii au instalate camere video pe bordul masinii:
Ruşii au probleme grave cu poliţia, care e dură şi coruptă până în măduva oaselor. La ei, camerele video din parbriz nu sunt o extravaganţă, ci o necesitate, pentru a se apăra de tot soiul de idioţi care sar în faţa maşinilor şi de poliţiştii corupţi. Nu ştiu dacă la ei e probă în faţa poliţiei, dar cu siguranţă e o probă în instanţă, plus că sperie posibilii şantajişti.
Axandu-ne acum pe imaginile de mai jos, nu-i asa ca daca nu ar fi existat aceasta filmare, mama acelui copilas nesupravegheat ar fi convins politistii ca ea e cea mai buna mama din lume iar soferul asta merita sa fie spanzurat si ars pe rug? Priviti cu cata ura aduce acuzele si in plus, distruge si masina bietului om: