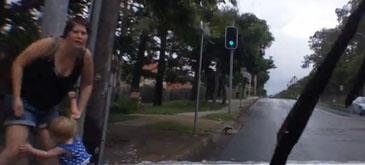 From the driver : "Never let your child's hand go when at the roadside.
This happened yesterday (21st Feb). As far as I know (from what the police told me later on) the girl is in a stable condition and so far no signs of broken bones or fractures. I'll find out more later.
I see this woman and her child almost every day on my way to work. Today she wasn't holding her hand."

"UPDATE: The child is 100% fine. Just abrasions on her face. I gave the cops a copy of the video. The police aren't going after me for anything, but they might charge the mother for something. Her version of the events didn't match what you could clearly see in the video. She said she "was holding her hand and she just slipped out of my grip and onto the road", but you can clearly see the kid is at a distance from the mother before stepping out onto the road."
La fel ca aici, o mama iresponsabila da vina pe sofer atunci cand vina e total a ei. Noroc ca fetita nu a patit nimic….