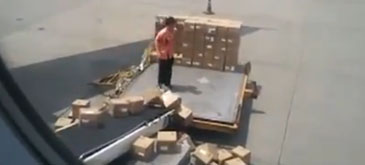 Chinese Airport Worker could not be worse at his job.
This was amazing to watch. I think I was the only one noticing what was happening outside the window of the plane, and this time I captured it. On a previous occasion I saw a load of Japanese sewing machines with 'this way up' and 'fragile, handle with care' stickers over the boxes also being thrown on to the conveyor.
Lesson: Pack it well, because it wont be treated well.
…. nu isi ia salariul la timp atunci astfel de lucruri se intampla. 😀
Update: Presupun ca acele colete au fost initial transportate pana la avion de baietii astia.


via albamedia.net