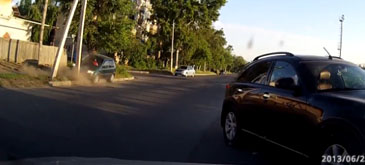 New driver initiation in Russia

Every new driver in Russia is required to hit something with his/her car when entering a highway for the first time. This young lady picked a stationary object, smart lass.
Sfat pentru toti soferii incepatori si nu numai: cand va ganditi sa va inscrieti in trafic venind de pe o straduta adiacenta verificati mai intai daca aveti vizibilitate si cand zic asta ma refer la soare, daca razele acestuia cad perpendicular pe nasul vostru atunci coborati parasolarul . Doar dupa asta puteti purcede spre  cea de-a doua etapa si anume inscrierea efectiva in trafic. Insa si aici nu uitati si aici un lucru important, aprecierea distantelor.