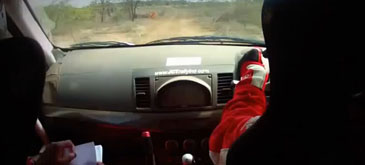 The video was taken during the 2013 Rally of Coimbatore, part of the Indian National Rally Championship, on-board the Mitsubishi Evo 10 driven by Samir Thapar and co-driven by Vivek Ponnusamy. The full length version is spread over 3 separate videos and 40 odd minutes and it has been edited into this 3:50 laughter filled-clip.
Cred ca nu am ras de multisor atat de mult. Sa te cheme Samir si sa ai drept copilot un astfel de specimen….. nu multi ar putea rezista asa cum al nostru Samir rezista eroic timp de 40 de minute. Montajul de mai jos este insa scurt – aproape 4 minute – si include doar fazele cheie ale conversatiei celor doi desfasurate pe parcursul unei etape ale raliului Indiei.
Vivek Ponnusamy.: Samir, you have to listen to my call, please, I'm begging you! You are not listening! Shut up!! Sharp left! Throttle! Stay on road, please! Long, please! Stay on road, Samir! Go, Samir! Sharp right, long, long, …. Double caution job, stay on roaaaaad!
Samir Thapar: SHUT UP!
Enjoy it! 🙂


thx to Bogdan & Ovidiu. I