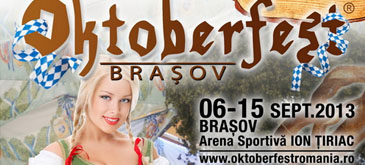 Hai sa petrecem impreuna nemteste la cel mai Grosse eveniment al anului!
Sa inceapa Petrecerea! Bucuresti: Plaza Romania 03-06 octombrie 2013.
Oktoberfest. Distractie Uber Alles!
Nici bine nu s-a terminat Oktoberfest-ul din Brasov ca organizatorii au anuntat deja detalii despre cel ce se va desfasura in Bucuresti in perioada 3-6 Octombrie . Dragi bucuresteni, cu siguranta va veti simti extraordinar acolo, va garantez acest lucru, cel putin asa a fost pentru mine, la Oktoberfest Brasov am intalnit o adevarata atmosfera bavareza.
Din mana in mana, cu mare grija, am reusit sa aprovizionam festivalul cu bere proaspata direct de la fabrica. Le multumim tuturor celor care au participat.
Una din cele mai interesante actiuni de care va povesteam in urma cu ceva vreme a fost lantul uman. Ca sa vedeti exact despre ce a fost vorba va invit sa urmariti clipul de mai jos:


Un mic bilant al evenimentului de la Brasov:   1.000 de hectolitri de bere ( Ciucas și Ursus, berea de grau Kronstadt Weiss, berea Oktoberfest Brasov 2013), 3 tone si jumatate de mici, aproape 2 tone de carnati bavarezi, peste 3.000 de porţii de coaste si peste 3 tone de cartofi s-au vandut in cele 10 zile de festival. Totul s-a intamplat in cel mai mare cort montat vreodata in Romania, unde participantii s-au delectat timp de 10 zile cu muzica, surprizele si meniul de la festival. Ziua multiculturalitatii, Battle of the Kronstadt Bands, cele 2 proiectoare pe care brasovenii au vazut meciul, Miss Oktoberfest si cele 2 trupe germane Aalbachtal Express si Rocky 5 s-au numarat printre surprizele festivalului de la Brasov.
Intregul set de poze poate fi vizionat aici.