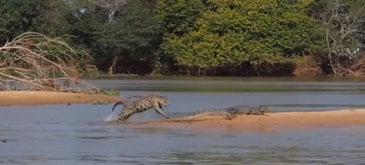 When a jaguar pounces, sometimes one bite is all it takes to get a meal. National Geographic has exclusive video of a jaguar taking down a caiman in Brazil's Pantanal wetlands, photos of which went viral earlier this month. Luke Dollar, a conservation scientist who helps manage National Geographic's Big Cats Initiative, explains the hunt and explosive moment of predation.
Spunea cineva ca pisicilor (mari sau mici) nu le place apa…..
Niste poze cat si mai multe detalii gasiti aici.