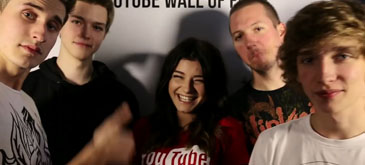 YouTube Romania presents The Rising Stars version2
A brief intro to the best and brightest individuals producing content for YouTube Romania. Including snippets of their own productions
Nu stiu daca stiati, insa chiar exista romani pe Youtube care sunt extrem de populari si au succes, canalele lor sunt urmarite de zeci de mii de fani. Pe Ungurul Bulan il stiti, pe baietii de la 10 Lucruri ii stiti, pe lista sunt si oameni de care nu am auzit insa cu siguranta acestia au ceva de spus din moment ce sunt atat de urmariti.
Update: Alta noutate, YouTube a facut o lista cu cele mai vizionate clipuri in anul 2013 (Romania).


[via zoso]