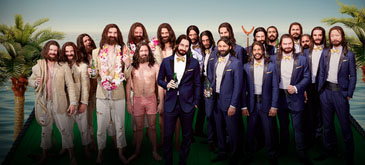 Sponsored Video The most legendary castaway boards a ship, entertains and charms the pants off the passengers and crew. But that can't be one man, can it? Music: "16 Toneladas" composed by Merle Travis and performed by Noriel Vilela.
Ultima reclama Heineken a fost conceputa si regizata de catre echipa de creatie compusa din Mark Bernath si Eric Quennoy , oameni ce s-au ocupat si de celebra cmpanie  "Nike  – Write the Future", lansata in timpul Campionatului Mondial de Fotbal din 2010 (Africa de Sud), campanie ce a generat un succes imens la nivel mondial la acea vreme.
The advertisement of the new Heineken campaign, The Odyssey Interactive Film shows that all men have unique skills. Every man is pretty damn good at something.