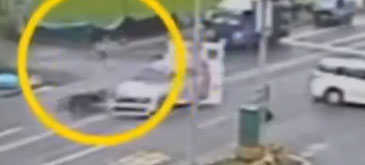 Helmet-less Scooter Rider is Saved by Inflatable Pools next to Road
Some lucky guy gets launched into a bunch of inflated wading pools, after he is hit by a car while the scooter rider is turning.
A 17-year-old man surnamed Lin, riding without a license or helmet, was fined more than US$200 for riding without a helmet or license, and for making an illegal turn. The car driver also received a penalty for driving without due care and attention.
Un tip conduce un scuter si o face fara casca. Pana aici ceva normal, insa cumva se face ca la un viraj spre stanga o masina sa-l izbeasca violent iar scuteristul sa fie proiectat cativa metri prin aer. Acum sa bagam in discutie partea cu norocul: fix in zona in care "aterizeaza" victima noastra direct in cap, se aflau cateva piscine gonflabile instalate (de vreun comerciant?) pe margine drumului. Care ar fi fost probabilitatea ca asa ceva sa se intample?