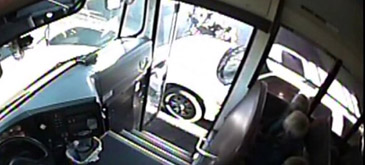 Driver speeds past Graham school bus, nearly hits 3 kids
A heart-stopping video from inside a Graham school bus shows a speeding SUV coming within inches of mowing down three school children. Hear from the parents and what police are doing to track down the driver here
Un sofer de autobuz de scoala opreste sa ia trei copilasi din statie. In urmatoarea milisecunda, un bou cu un SUV alb depaseste autobuzul prin dreapta si taie calea copiilor, aproape sa-i spulbere.
Un idiot, cu siguranta…..

thx to branco