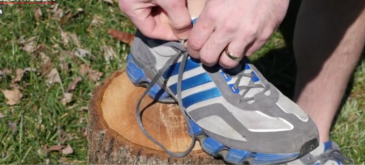 How to Prevent Running Shoe Blisters With a "Heel Lock" or "Lace Lock"
Here's how to tie a "heel lock" or "lace lock". A lot of running and hiking shoes have an extra shoelace hole at the top (if your shoes don't have an extra hole, just use the top regular hole instead). We're going to use these holes to create loops on the inside and outside of our shoe.
Once we have created loops on both sides of our shoe we cross our laces and insert them into the loop on the other side. We then cinch our laces down. Make sure to pull the end of your laces down to create the actual "lock". Lace your shoe in a balanced shoelace knot and you're done. No more shoe blisters!
Serialul nostru (Sfaturi Practice) continua astazi cu un nou episod. Astazi invatam cum sa ne legam sireturile la adidasi in cel mai sigur mod:
thx to branco