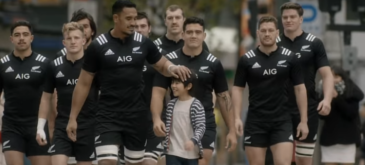 ALL BLACKS Tackle Tokyo #TackleTheRisk #AllBlacks AIG JAPAN
Everyday life is full of surprises and risks. AIG teamed up with the All Blacks to protect the people of Tokyo. #TackleTheRisk.
This special movie is based on AIG's concept of ACTIVE CARE – a commitment to delivering a total customer experience that helps you mitigate risk instead of just dealing with the consequences when life catches you by surprise.
*Filmed safely under controlled conditions and expert supervision. Do not attempt to copy the actions featured in this movie.
Japonezii au scos o reclama misto pentru o firma de asigurari, actorii principali sunt membrii echipei nationale de rugby a echipa de rugby a Noii Zeelande, celebrii All Blacks.