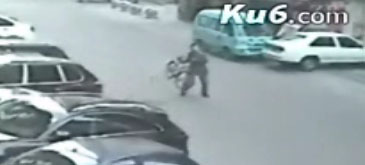 Two thieves on a motor-scooter flew by and snatched a womans purse on a street in Wenzhou, China. Surveillance video shows a man riding a bicycle. As he was passing by the front of a hotel near where the thievery happened, he stopped, calmly got off his bicycle, picked it up, and then threw it at the thieves. The bicycle hit them, they lost control, and crashed to the ground.
Locuitorii orasului Wenzhou (China) nu prea agreeaza hotii si in special pe aceia care fura posete de la doamne in varsta. Si tocmai din aceasta cauza, Politia nu prea este apelata….
Imaginile de mai jos sunt extraordinare, un simt civic mai ridicat decat atat nu prea cred ca ati vazut pana acum.