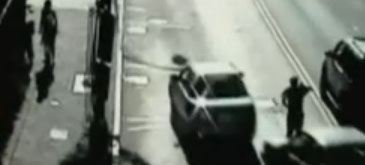 This is an awful video! Caught on tape in Connecticut. Two cars illegally pass on a double line when a car slows down. The first avoids the man walking, the second hits him SO hard he flies in the air and lies there dying. They ALL drive away (hit and run.) THEN no-one responds, goes out to help, does ANYTHING!! What has happened to society??? It's sick!
If anyone knows who these drivers are, PLEASE contact law enforcement!
From the Fox News Network.
Acum cateva zile va aratam ce fac chinezii atunci cand conationalii lor sunt la ananghie, astazi observam cu multa greata ce fac americanii atunci cand un mosulica in varsta de 75 de ani este lovit de o masina. Uitati-va la masini si la cetatenii de pe trotuar.