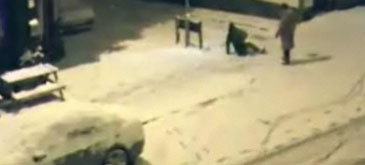 A couple films people falling in the same iced-over spot, over and over again. It was this or watch "A Christmas Story" on TV… again. I think they made the right choice.
De dimineata a plouat, frigul a produs un strat subtire de gheata iar acum – e seara –  ninge frumos si linistit. Zapada s-a asternut peste tot iar noi stam in casa, ascultam colinde si facem misto de trecatorii care se rostogolesc artistic pe trotuar. Feeric!
Da, a venit  iarna! 😀
P.S. Nu-i asa ca e misto piesa de pe fundal?