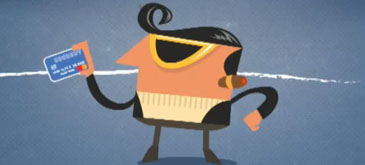 Managing credit doesn't need to be scary. Staying safe with your credit card is vital. Anyone can fall victim to identity theft, fraud, scams or hoaxes which may affect your credit rating. This Credit Made Clearer video will give you advice on staying safe. Credit Made Clearer is an initiative designed to help people dispel the myths, clear up the jargon and help them make the most of their credit card.
Mai jos avem prezentate cateva metode prin care ne putem feri de eventualele belele atunci cand vine vorba de cardul nostru.
Nu scrie PIN-ul pe card. Motivul e lesne de inteles, in caz de-l "pierzi" usurezi munca celui care-l "gaseste". 🙂
Uită-te atent la bancomat să nu fie ceva diferit, care nu ți se pare în ordine. De preferat să mergi să îți scoți banii direct din bănci sau de la bancomatele unde ai mai luat, DAR mereu să fii atent la lucruri diferite de pe automat.
Când mergi în zone necunoscute e mai bine să ai cash la tine. Doar atât cât îți trebuie, ca să nu trebuiască să recurgi nepărat la card.
Dacă observi că ceva nu este în ordine dai telefon la 112 și la bancă pentru a-ți bloca acel card. Dar fă totul ca și cum ai vorbi cu o cunoșință, pentru că este posibil ca hoții să fie aproape și să își dea seama ca ma apoi să fugă.
O altă metodă, dar care nu știu dacă funcționează, este să introduci codul PIN de la coadă la cap (invers) în caz că ți-ai dat seama că ai nimerit într-o capcană. Ex: codul PIN e 2345, introduci 5432 și Poliția va fi alertată de problema din zona ta. Nu știu dacă metoda aceasta merge sigur.
de aici
Alte metode de prevenire ne sunt prezentate mai jos prin intermediul acestei minunate animatii: