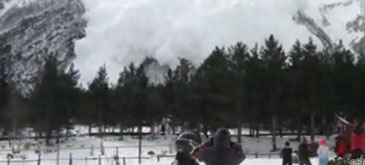 "Stay behind the fence! It is a well-known fact that avalanches can not jump over fences!"
Pai, in primul rand ai nevoie de un tun (se gasesc la mall). Apoi trebuie sa fii constient ca nu trebuie sa te  "joci de-a avalansa"  intr-o zona populata. Mai exact, asigura-te ca nimeni nu va fi afectat de consecintele actiunii tale.
Desigur, recomand sa nu consumati alcool. Starea de ebrietate reduce din capacitatile vizuale si este posibil ca norul de zapada ce se apropie vertiginos catre grupul vostru sa nu fie chiar atat de departe pe cat credeti. 🙂
Imaginile de mai jos mi-au adus aminte de furtuna din Finlanda prezenta intr-un articol publicat in vara lu' 2010.
Update: piesa de pe fundal se numeste "Battle Without Honor or Humanity – by Tomoyasu Hotei".