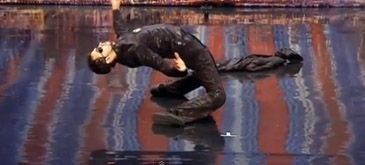 Britain's Got Talent: 28-year-old dancer Razy, originally from Romania, is trying out for Britain's Got Talent with quite a unique act, taking queues from the film The Matrix. With breakdancers being notorious on this show – from Tobias Mead and Aiden Davis to winner George Sampson – has Razy got something special that makes him different?
Asa cum lesne puteti deduce din titlu, Razy Gogonea – un roman stabilit in Marea Britanie – a participat la Britain's Got Talent si a reusit sa treaca de preselectii. Asta imi aduce aminte de celalalt roman plecat peste hotare (Bogdan Alin Ota), pe care vi l-am prezentat in urma cu cateva saptamani si care a reusit sa ridice publicul norvegian in picioare cu prestatia sa.
In concluzie, romanii au talent oriunde s-ar afla. 🙂
Dansul sau inspirat din Matrix nu a trecut neobservat in Regat. Razy este noul fenomen, Discutii privind numarul romanului au umplut paginile de comentarii ale ziarelor si ale blogurilor.
[thx to TTK & Saw & Chocapic]