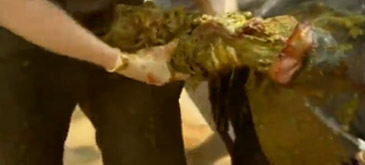 Pulling out fermented plastic from a cow's stomach

Cows in India usually eat plastic rubbish. This particular cow has consumed over 35 pounds of plastic and it's literally choking the cow. This video is gross as hell so if you're eating something…
Stiu ca postez acest material destul de tarziu si e posibil ca multi dintre voi sa-l "savurati" de dimineata alaturi de cafea dupa un mic dejun binevenit. Imi pare rau…..
Revening, stiati ca in stomacul unei vaci pot rezida pana la 14 kg de plastic? Normal, asta se intampla in India, la noi in Romania sigur nu avem atat de multa mizerie pe pasuni. Corect?