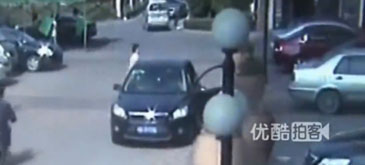 Man got double robbed by thief and opportunist

He wanted to buy a bottle of water in the store but left the car door open. His car was driven away by a thief and his purse was taken away by an opportunist when he tried to chase the thief. The car was worth 110,000 yuan but the amount of money in the purse was unknown.
In imaginile de mai jos asistam la un dublu furt (China). Pe scurt: un tip coboara din masina (si – dintr-un motiv doar de el stiut – lasa portiera larg deschisa), se indreapta spre un supermarket din apropiere iar intre timp – asa cum bine ati intuit – masina-i este furata. Tipul observa asta si da fuga rapid sa o recupereze iar intr-un gest de disperare arunca cu borseta spre noul sofer al acesteia. Borseta cade pe jos si-i este furata de catre un alt cetatean. 😀
Daca e sa ma intrebati pe mine sunt de parere ca pe pagubit nu-l prea duce capul…..
Later edit: e un proverb romanesc care merge folosit pentru a descrie aceasta patanie dar am un lapsus si nu mi-l aduc acum aminte, poate ma ajutati…