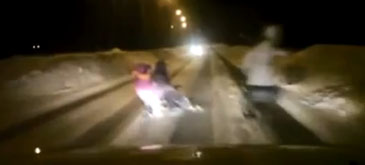 Mother and Children on Sled Almost Hit by Car.
A mom and her kids are seen crossing an icy road at night. Lucky the man driving the car was able to avoid the people. No one was injured.
Eu nu inteleg cum de exista astfel de oameni pe Pamant, chiar nu inteleg!! Cum sa iti supui cei doi copii la astfel de riscuri? Inseamna ca esti cretina!